XF系列卧式流化床沸腾干燥机
XF series horizontal fluidized bed boiling dryer
卧式沸腾干燥机|振动流化床干燥机|卧式流化床沸腾干燥机
Horizontal boiling dryer | Vibrating fluidized bed dryer | Horizontal fluidized bed boiling dryer
江苏博鸿提供的卧式沸腾干燥机,振动流化床干燥机,卧式流化床沸腾干燥机,双锥真空干燥机,流化床沸腾干燥机,高效沸腾干燥机,流化床干燥机,喷雾干燥制粒机,符合医药GMP/FDA要求。江苏博鸿生产制造的喷雾干燥设备性能稳定,模块化设计,为您提供先进的喷雾干燥整体解决方案和实验喷雾干燥工艺实验样机。江苏博鸿是高品质喷雾干燥设备生产厂家,已提供超数百套高品质喷雾干燥设备,客户遍布全国和欧洲/东南亚/中东等海外地区。
Jiangsu bohong offers horizontal boiling dryer, vibrating fluidized bed dryer, horizontal fluidized bed boiling dryer, double-cone vacuum dryer, fluidized bed boiling dryer, efficient boiling dryer, fluidized bed dryer, spray drying granulator, in line with GMP/FDA requirements. Jiangsu bohong manufacturing spray drying equipment stable performance, modular design, to provide you with advanced spray drying solutions and experimental spray drying process experimental prototype. Jiangsu bohong is a high quality spray drying equipment manufacturers, has provided more than hundreds of high quality spray drying equipment, customers throughout the country and Europe/southeast Asia/the Middle East and other overseas regions.
一、XF系列卧式流化床沸腾干燥机--设备概述
卧式流化床沸腾干燥机目前在制药,化工,食品,粮食加工方面,越来越体现了它的重要作用。它是由空气过滤器,沸腾床主机、旋风分离器,布袋除尘器,高压离心通风机、操作台组成。由于干燥物料的性质不同,配套除尘设备时,可按需要而进行,可同时选择旋风分离器,布袋除尘器。也可选择其中的一种。一般来说,比重较大的物料只需选择旋风分离器。比重较轻的物料需配套布袋除尘器,并备有气力送料装置选择。卧式流化床设备有连续型与间隙式两种操作方式。
XF series horizontal fluidized bed boiling dryer - equipment overview
Horizontal fluidized bed boiling dryer is now more and more important in pharmaceutical, chemical, food, food processing. It is composed of air filter, fluidized bed main engine, cyclone separator, bag filter, high pressure centrifugal fan and operating platform. Because the nature of dry material is different, supporting dust removal equipment, can be carried out according to the need, can also choose the cyclone separator, bag filter. You can also choose one of them. Generally speaking, heavy materials only need to choose cyclone separator. Materials with a light weight should be equipped with a bag filter and equipped with pneumatic feeding device. The horizontal fluidized bed equipment has two operation modes: continuous type and clearance type.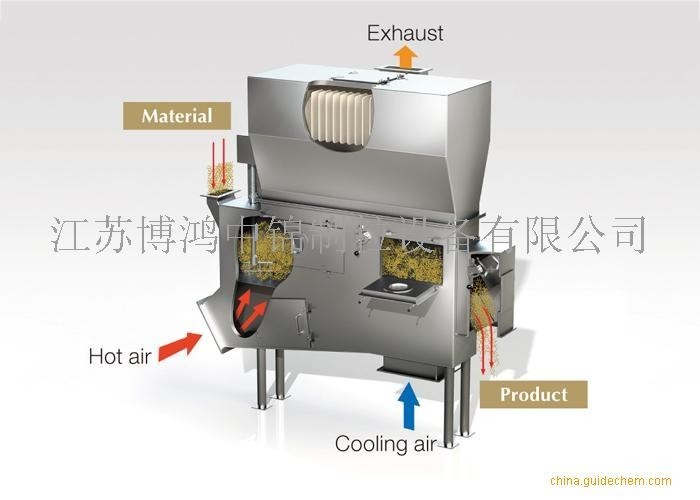 二、XF系列卧式流化床沸腾干燥机--工作原理
湿物料经过加料系统进入固定流化床内,空气经过除湿、加热器加热后,由鼓风机引入流化床底部风室内,物料在热空气的作用下形成流态化,并与热空气之间进行强烈的传热传质过程,物料脱水所需热量由热风提供,物料中水分蒸发后被干燥介质带走,干燥合格的物料经排料装置排出流化床,进入后续工段。夹带水分与少量粉尘的干燥尾气进入布袋除尘装置,粉尘得到回收,尾气最终经引风机排空。
XF series horizontal fluidized bed boiling dryer - working principle
Wet material into the fixed fluidized bed by feeding system, air after dehumidification, heater heating, introduced by blower wind indoor, at the bottom of the fluidized bed material fluidization is formed under the effect of hot air, and compared with hot air between the intense heat and mass transfer process, materials provided by hot air dehydration calories, evaporate the moisture from the material after being taken away by the drying medium, qualified drying after discharging device out of fluidized bed, into the subsequent section. The dry tail gas containing moisture and a small amount of dust enters the bagging dedusting device, and the dust is recovered. The tail gas is finally drained by the induced fan.
三、XF系列卧式流化床沸腾干燥机--设备优势
洁净的热风经阀板分配进入流化床沸腾干燥床体内,从加料器进入的湿物料被热风形成沸腾状态。由于热风与物料广泛接触,增加了传热传质的过程,因此在较短时间内就可干燥。如用连续型,物料从床体的一头进入,经过几十秒至几分钟沸腾干燥,自动从床体另一头流出。
a.节能高效,气固两相接触均匀,相对速度大,传热速度快,热效率高,对热敏性物料,可使用较低温度进行干燥,颗粒不会被破坏;
b.设备运行稳定、寿命长,操作简单,单机处理量大,适用于连续操作;
c.设备占地面积小,系统投资省;
d.无转动件和振动件,设备维护费用低;
e.采用特殊的布风结构,可有效防止漏料。
XF series horizontal fluidized bed boiling dryer - equipment advantages
Clean hot air through the valve plate distribution into the fluidized bed boiling dry bed body, from the feeder into the wet material is hot air boiling state. Due to the wide contact between hot air and materials, the heat and mass transfer process is increased, so it can be dried in a short time. If use continuous type, the material enters from one end of the bed body, after several seconds to several minutes boiling dry, automatically flows out from the other end of the bed body.
A. Energy saving and high efficiency, even gas-solid contact, high relative speed, fast heat transfer speed, high thermal efficiency, low temperature can be used for drying heat-sensitive materials, particles will not be destroyed;
B. Stable operation, long service life, simple operation, large capacity of single machine, suitable for continuous operation;
C. The equipment covers a small area and saves system investment;
D. No rotating parts and vibration parts, low equipment maintenance cost;
E. Special air distribution structure can effectively prevent material leakage.
ZQG系列振动流化床沸腾干燥机
ZQG series vibrating fluidized bed boiling dryer
一、ZQG系列振动流化床沸腾干燥机--设备概述
ZQG系列大型振动流化床是江苏博鸿公司在国外先进的振动流化床基础上,吸收国内大型振动输送机制造及安装运行经验,结合本公司原有的处于国际*的流态化技术,自主开发的一种新型干燥设备。它采用先进的振动原理,使得它不仅具有传统干燥设备的优点,还在节能降耗、设备大型化、降低投资方面取得了突破性的进展。
ZQG系列大型振动流化床采用双质体共振式结构形式,惯性激振器与共振质体组成一个共振单元,用普通电机通过万向节带动齿轮激振器产生激振力,激振力经共振弹簧放大数倍后作用于工作质体,使物料处于流化状态,被处理物料在这种激振力的作用下跳跃前进,同时振动流化床底部输入的热风穿过料层,物料颗粒与热风充分接触从而达到理想的干燥效果。
ZQG series vibrating fluidized bed boiling dryer -- equipment overview
ZQG series large vibration fluidized bed is a new drying equipment independently developed by jiangsu bohong company on the basis of foreign advanced vibration fluidized bed, absorbing domestic experience in manufacturing and installation of large vibration conveyor, and combining the company's original international leading fluidized technology. It adopts advanced vibration principle, which not only has the advantages of traditional drying equipment, but also makes a breakthrough in energy saving and consumption reduction, equipment upsizing and investment reduction.
ZQG series large vibration fluidized bed with double plastid resonance type structure form, the inertia vibrator and resonance plasmids form a resonance unit, using ordinary motor by universal joint drive gear vibrator to produce vibration force, vibration force amplified by resonance spring effect to the work plasmids after several times, make the material in a fluidized state, by processing materials in this exciting force under the action of jumping forward, at the same time at the bottom of the vibrating fluidized bed type hot air through the material layer, material particles in contact with the hot air fully dry so as to achieve the ideal effect.
二、ZQG系列振动流化床沸腾干燥机--设备优势
1、振动流化床干燥机物料受热均匀,热交换充分,干燥强度高,比普通干燥机节能30%左右。
2、振动源采用振动电机驱动,运转平稳,维修方便,噪音低,寿命长。
3、流态化稳定,无死角和吹穿现象。床层开孔形式,及开孔率至关重要。终水份、产量可通过振幅及加料量来控制。
4、可调性好,适应面宽。
5、对物料表面损伤小,可用于易碎物料的干燥,物料颗粒不规则时亦不影响工作效果。明显优于沸腾床
6、采用全封闭式的结构,有效地防止了物料与空气间的交叉污染,作业环境清洁。
7、惯性激振器与共振质体组成一个共振单元,降低了电机功率,节省能源。
8、用普通电机通过万向节带动齿轮激振器产生激振力,使得电机在设备运行时不在参与振动且电机不与床体直接接触,延长了电机的使用寿命,提高了振动床的使用温度。
9、激振源在设备的头部安装,改善了整个设备的受力情况,实现了用一台共振式振动床代替几台普通振动床串联使用的情况,降低了设备投资及工程造价,同时先进的振动结构保证大型振动床宽度、长度方向上同步振动,解决了普通双电机振动床的偏流、沟流问题。
10、大型振动流化床由于长度的增加、面积的加大,大大延长了物料的停留时间,有利于大颗粒物料的深度干燥,同时振动的应用和流化速度的降低有利于减少磨损,保持颗粒的稳定。
11、高频率的振动使热风分布更加均匀,提高了热风与湿物料的传热效率。
12、大型振动流化床同时具有振动输送机的功能,可以实现干燥完成后的少量残余物料的自动清理功能。
13、大型振动流化床与滚筒相比结构简单,重量较轻,造价不高,运行费用低,同时维修方便,工程投资低。
ZQG series vibrating fluidized bed boiling dryer -- equipment advantages
1. The material of vibrating fluidized bed dryer is heated evenly, with sufficient heat exchange and high drying strength, saving about 30% energy compared with ordinary dryer.
2. The vibration source is driven by vibration motor, which features stable operation, convenient maintenance, low noise and long service life.
3. Steady fluidization, no dead Angle and blowing through. Bed perforation form, and perforation rate is crucial. The final moisture and yield can be controlled by amplitude and amount of feed.
4. Good adaptability and wide adaptability.
5, small damage to the surface of the material, can be used for the drying of fragile materials, material particles irregular also does not affect the working effect. Obviously better than the boiling bed.
6. The fully enclosed structure can effectively prevent the cross pollution between materials and air, and the operation environment is clean.
7. The inertial shaker and the resonant plastid form a resonance unit, which reduces the motor power and saves energy.
8. The ordinary motor drives the gear shaker through the universal joint to generate the vibration force, so that the motor does not participate in the vibration when the equipment is running and the motor does not directly contact with the bed body, thus extending the service life of the motor and increasing the service temperature of the vibrating bed.
9, excitation source installed at the head of the equipment, to improve the force situation of the equipment, and realized with a resonant vibration bed instead of several common used vibration bed series, reduces the equipment investment and construction cost, at the same time, advanced vibration structure to ensure that large synchronous vibration, vibration bed width, length, direction to solve the ordinary double bias current of motor vibration bed, ditch flow problem.
10. With the increase of length and area, the residence time of large vibrating fluidized bed is greatly prolonged, which is conducive to the deep drying of large particle materials. Meanwhile, the application of vibration and the reduction of fluidized speed are conducive to reducing wear and maintaining the stability of particles.
11. The high frequency vibration makes the hot air distribution more even and improves the heat transfer efficiency of hot air and wet materials.
12. The large vibrating fluidized bed also has the function of a vibrating conveyor, which can realize the automatic cleaning function of a small amount of residual materials after drying.
13. Compared with the roller, the large vibrating fluidized bed has simple structure, light weight, low cost, low operation cost, convenient maintenance and low project investment.
XSG系列旋转闪蒸干燥机
XSG series rotating flash dryer
一、XSG系列旋转闪蒸干燥机--设备概述
旋转闪蒸干燥机是我公司为克服静态干燥低效、高耗而研制开发的新型高效流态化干燥设备。该机在设计过程中充分结合气流干燥等流态干燥的特点,扬长避短,使整机具有合理的工艺结构和优越的使用性能,真正实现流态化干燥的低耗、高效目标。
旋转闪蒸干燥机应用范围极其广泛,可用于阻燃剂、分子筛、橡塑助剂、农药、颜料、染料、精细化工、饲料、医药及部分中间体的脱湿干燥。
旋转闪蒸干燥机是一种带有旋转粉碎装置的立式干燥器,能同时完成物料的干燥、粉碎、分级等操作,是为干燥滤饼状、膏糊状、稀泥浆状物料而专门设计的一种连续干燥设备。
经热源加热的洁净的热介质沿切线形式进入干燥室,与机械搅拌机构一起形成强有力的涡旋式旋转气流。湿物料由加料器定量加入干燥室,在搅拌和涡旋气流的作用下被粉碎干燥。干燥室顶部设有粒度分级器,符合干燥要求的细粉末从塔顶排出,由后面的分离器收集下来,未达到干燥要求的较大颗粒由分级环阻挡,重新返回干燥室,继续被粉碎干燥,直到干燥成合格产品后,随热空气排出干燥室,由分离器收集下来。洁净的尾气在引风机的作用下排空。
XSG series rotating flash dryer -- equipment overview
Rotary flash dryer is a new efficient fluidized drying equipment developed by our company to overcome the low efficiency and high consumption of static drying. In the design process, this machine fully combines the characteristics of flow mode drying, such as air drying, to promote advantages and avoid disadvantages, so that the whole machine has a reasonable process structure and superior performance, really achieve the goal of low consumption and high efficiency of fluidized drying.
The rotary flash dryer is widely used in the dehumidification and drying of flame retardants, zeolites, rubber and plastic additives, pesticides, pigments, dyes, fine chemicals, feed, medicine and some intermediates.
Rotary flash dryer is a vertical dryer with rotary crushing device, which can complete the drying, crushing, grading and other operations of materials at the same time.
The clean hot medium heated by a heat source enters the drying chamber in a tangential form and forms a powerful vortex rotating airflow with the mechanical stirring mechanism. The wet material is added to the drying chamber quantitatively by the feeder and is crushed and dried under the action of stirring and vortex airflow. Drying chamber at the top of the particle size classifier, meet the requirements of the dry powder from the top of the tower, collected by the back of the separator, did not meet the requirements of drying of the larger particles by grading ring, to return to the drying room, continue to be crushed dry, until dry into qualified product, along with the hot air drying chamber eduction, collected by separator. The clean exhaust gas is discharged under the action of the induced draught fan.
二、XSG系列旋转闪蒸干燥机--设备优势
※ 广泛适用于含有不溶于水或溶剂的,非晶状或晶状细小颗粒的低粘性淤渣、膏糊,滤饼或半干燥粉末的干燥生产。
※ 投料时,不需对物料进行稀释,降低了干燥能耗。
※ 干燥连续,布局紧凑,清洗容易。
※ 干燥过程的传热传质时间短,热损失少。
※ 多种加料装置供选择,加料连续稳定,不会产生架桥现象。
※ 干燥机底部设置特殊的冷却装置,避免了物料在底部高温区产生变质现象。
※ 特殊的气压密封装置和轴承冷却装置,有效延长传动部分使用寿命。
※ 特殊的分风装置,降低了设备阻力,同时使塔内风速趋于平衡。
※ 干燥室装有分级环及旋流片,物料细度和终水份可调可控。
XSG series rotating flash dryer -- equipment advantages
※ Widely used in the dry production of low viscosity sludge, paste, filter cake or semi-dry powder containing water or solvent insoluble, amorphous or crystalline fine particles.
※ Material does not need to be diluted during feeding, reducing drying energy consumption.
※ continuous drying, compact layout, easy cleaning.
※ the heat and mass transfer time in the drying process is short with less heat loss.
※ A variety of feeding devices for selection, feeding continuous stability, no bridge phenomenon.
※ Special cooling device is installed at the bottom of the dryer to avoid deterioration of materials in the high temperature area at the bottom.
Special pneumatic sealing device and bearing cooling device, effectively extend the service life of the transmission part.
※ Special wind distribution device reduces the resistance of equipment and makes the wind speed in the tower more balanced.
* the drying chamber is equipped with a grading ring and a swirl plate, and the fineness and final moisture of the material can be adjusted and controlled.
SZG系列双锥回转真空干燥机
SZG series double - cone rotary vacuum dryer
一、SZG系列双锥回转真空干燥机--工作原理
SZG系列双锥回转真空干燥机为双锥形的回转罐体,罐体在真空状态下,向夹套内通入导热油或热水进行加热,热量通过罐体内壁与湿物料接触。湿物料吸热后蒸发的水汽或其他气体,通过真空泵经真空排气管被抽走。由于罐体内处于真空状态,且罐体的回转使物料不断的上下,内外翻动,故加快了物料的干燥速度,提高干燥速率,达到均匀干燥的目的。
SZG series double - cone rotary vacuum dryer - working principle
SZG series double-cone rotary vacuum dryer is a double-cone rotary tank body, tank body in the vacuum state, into the jacket into heat conduction oil or hot water for heating, heat through the inner wall of the tank body contact with wet materials. The vapor or other gas that evaporates after the wet material absorbs heat is removed by the vacuum pump through the vacuum exhaust pipe. Because the tank is in the vacuum state, and the tank rotation makes the material constantly up and down, inside and outside turning, so that the drying speed of the material is accelerated, improve the drying rate, to achieve the purpose of uniform drying.
二、SZG双锥回转真空干燥机--设备特点
双锥回转真空干燥机是集混合—干燥于一体的新型干燥机。将冷凝器,真空泵与干燥机配套,组成真空干燥装置。(如不需要回收溶剂,冷凝器可不用)本机设计先进,内部结构简单,清扫容易,物料能全部排出,操作简便。能降低劳动强度,改善工作环境。同时因容器本身回转时物料亦转动,但器壁上不积料,故传热系数高,干燥速率大,不仅节约能源,而且物料干燥均匀充分,质量好。可广泛应用于制药、化工、食品、染料等行业的干燥。符合GMP和FDA要求的理想设备。
SZG double - cone rotary vacuum dryer - equipment features
Double - cone rotary vacuum dryer is a new type of dryer which integrates mixing and drying. The condenser, vacuum pump and dryer are matched to form a vacuum drying device. (if you do not need to recycle solvent, the condenser can not be used) the machine design is advanced, the internal structure is simple, easy to clean, the material can all discharge, easy to operate. Can reduce labor intensity, improve the working environment. At the same time, since the material also rotates when the container rotates, but no material is accumulated on the wall, the heat transfer coefficient is high and the drying rate is high, which not only saves energy, but also the material is evenly and fully dried with good quality. Can be widely used in pharmaceutical, chemical, food, dye and other industries of drying. Ideal equipment in compliance with GMP and FDA requirements.
三、SZG双锥回转真空干燥机--应用范围
真空干燥机适用于医药、食品、化工等行业的粉、粒状物料的真空干燥和混合,尤其适用由下列要求的干燥:
※ 不能接受高温的热敏性物料
※ 需回收溶剂和有毒气体的物料
※ 容易氧化,有危险的物料
※ 对结晶状有要求的物料
※ 要求残留挥发物含量极低的物料
SZG double - cone rotary vacuum dryer - application range
※ The vacuum dryer is suitable for the vacuum drying and mixing of powder and granular materials in pharmaceutical, food and chemical industries, especially for the following drying requirements:
※ Heat sensitive materials with high temperature are not acceptable
※ Materials requiring recovery of solvents and toxic gases
※ Materials that are easily oxidized and dangerous
※ Materials required for crystalline form
※ Materials with very low residual volatile content are required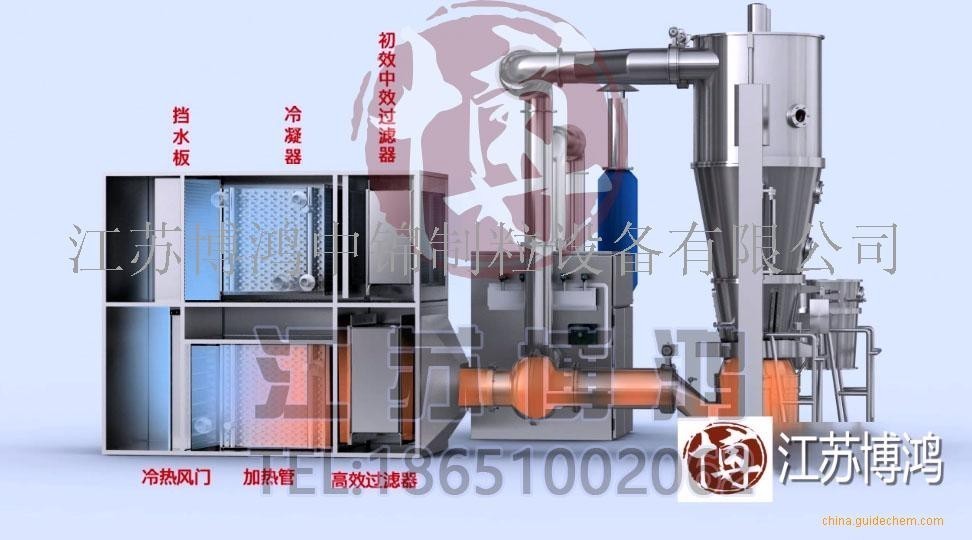 FPCG系列流化床高效沸腾干燥机
FPCG series fluidized bed high efficiency boiling dryer
一、FPCG系列流化床高效沸腾干燥机--设备概述
江苏博鸿所有的生产型流化床均可实现水平和垂直方向的物料流程设计。上料可以通过物料自身的重力或者通过抽吸的方式来完成。
流化床物料槽可移动并翻转出料(达到一定的批量生产时)。 通过升降柱提升可以实现无尘上料和卸料。
流化床出料也可以通过侧面的抽吸,或者通过垂直方向利用物料自身的重力和旋转的物料槽底部结构来实现,底部翻转出料是流化床出料方法中*的。
FPCG series fluidized bed high efficiency boiling dryer -- equipment overview
All production-type fluidized beds in jiangsu bohong can be designed for horizontal and vertical material flow. Feeding can be done by the material's own gravity or by pumping.
Fluidized bed material tank can be moved and turned out (when certain batch production is achieved). Dust-free feeding and unloading can be realized by lifting column.
Fluidized bed discharge can also be achieved by side suction, or by using the gravity of the material itself in the vertical direction and the structure of the bottom of the rotating material trough. Bottom flip discharge is the most effective discharge method in fluidized bed.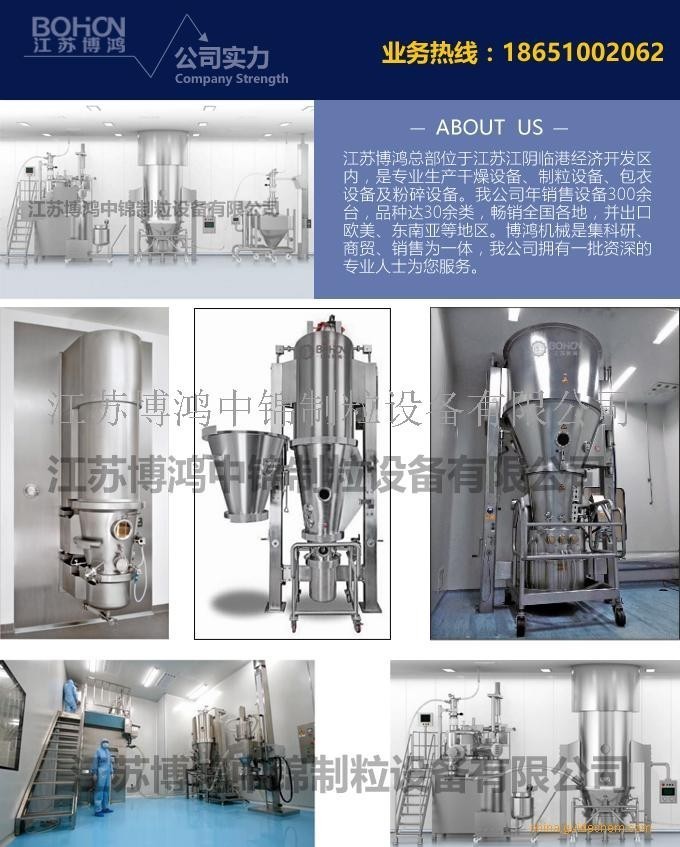 二、FPCG系列流化床高效沸腾干燥机--产品功能
※ A、干燥功能:湿物料进行负压干燥
※ B、制粒功能:制成的颗粒更均匀、细粉少、流动性更好
※ C、包衣功能:可以对颗粒、微丸、药物粉末进行功能层包衣;也可对颗粒、微丸进行药物敷层包衣。
FPCG series fluidized bed high efficiency boiling dryer - product function
※ A. Drying function: negative pressure drying for wet materials
※ B. Granulation function: the granule is more uniform, with less fine powder and better fluidity
※ C. Coating function: it can coat particles, pellets and pharmaceutical powder with functional layer; Drug coating can also be applied to particles and pellets.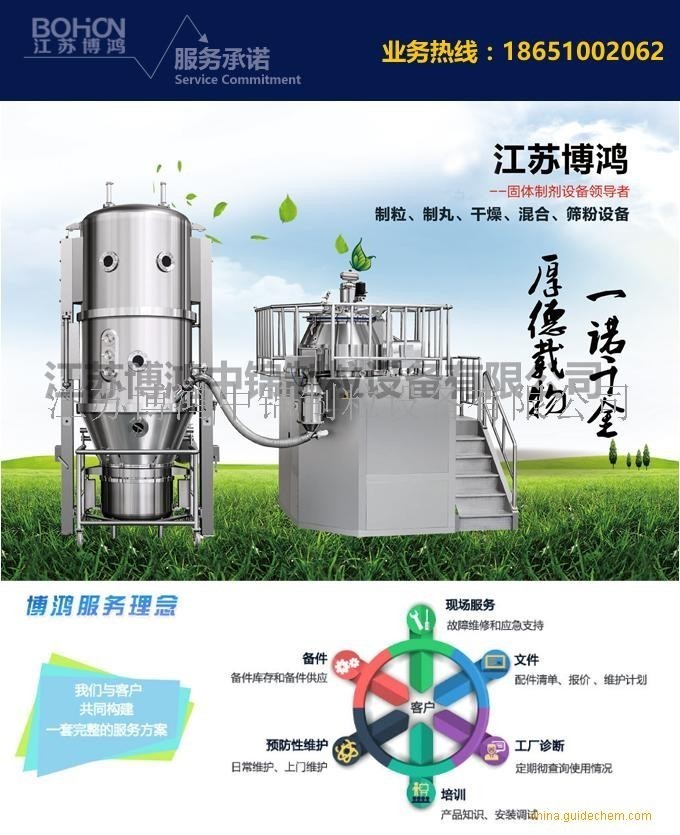 三、FPCG系列流化床高效沸腾干燥机--产品特点
※ 设备结构紧凑,体积较小,占地面积少,可方便移动。
※ 密闭式的操作系统,避免交叉污染。
※ 风量由变频风机控制,具有能耗低、噪音低等优点。
※ 温度控制精确,波动范围小。
※ 3个过滤室轮流清粉,在保证流化状态情况下,保证了滤袋的通透性。
※ 引进德国先进的打磨抛光技术,设备表面更加精美。
※ 设备结构简单,拆装方便,无死角,易于清洗干净。
※ 精心设计的气流分布结构,气流分布更均匀,效率更高,产品质量更稳定且重现性好。
※ 设备电器控制简单,性能稳定可靠,元器件易维修更换。
※ 实验型,中试型,生产型流化床的气流结构都是按照同一个技术标准设计的,所以将来产品的平行放大性和重现性会很好。
FPCG series fluidized bed high efficiency boiling dryer - product features
※The device is compact in structure, small in size, occupies less space, and is easy to move.
※ closed operating system to avoid cross contamination.
※ the air volume is controlled by a variable frequency fan, which has the advantages of low energy consumption and low noise.
※ accurate temperature control with small fluctuation range.
※ 3 filter rooms take turns to clean the powder, ensuring the permeability of the filter bag under the condition of fluidization.
※ the introduction of advanced polishing technology from Germany makes the surface of the equipment more exquisite.
※ the equipment has simple structure, easy to disassemble and assemble, no dead corner and easy to clean.
※Carefully designed airflow distribution structure makes airflow distribution more uniform, higher efficiency, more stable product quality and better reproducibility.
※Equipment electrical control is simple, the performance is stable and reliable, components easy to repair and replace.
※Experimental, pilot and production fluidized beds are all designed according to the same technical standard, so the products will have good parallel amplification and reproducibility in the future.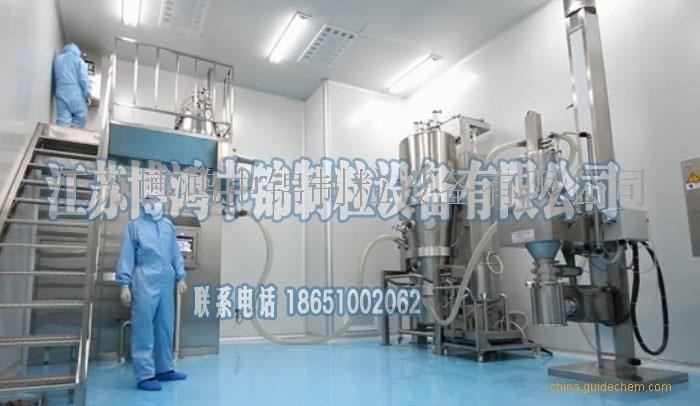 四、FPCG系列流化床高效沸腾干燥机--独特的技术
江苏博鸿生产的流化床针对不同的工艺装置可以灵活互换。顶喷物料槽。可用于制粒、干燥和粉末包衣。 大面积的底部设计,达到了*的风量流通,从而大大提高了干燥效率。标准的底部筛网设计,容易清洁。符合大部分产品和工艺的需求。


※ 所有生产型流化床均设计了*的风量分布结构。

※ 锥形泄压区使产品的流速减慢,从而能够得到更好的产品。

※ 不同的底部设计保证产品的*流入。

※ 双室过滤系统,确保了持续的流化状态,即使在振荡清灰时。

※ 我们可以针对不同产品的需要提供不同的过滤袋。 过滤袋更换方便。
FPCG series fluidized bed high efficiency boiling dryer -- unique technology
The fluidized bed produced by jiangsu bohong can be exchanged flexibly for different process devices. Top jet material tank. Can be used for granulating, drying and powder coating. Large area of the bottom design, to achieve the best air flow, thus greatly improve the drying efficiency. Standard bottom screen design, easy to clean. Meets the requirements of most products and processes.
※ Optimal air flow distribution structures are designed for all production fluidized beds.
※ The tapered relief zone slows down the flow of the product so that a better product can be obtained.
※ Different bottom designs ensure optimal flow of products.
※ Dual chamber filtration system ensures continuous fluidization even during oscillating ash removal.
※ We can provide different filter bags for different products. The filter bag is easy to replace.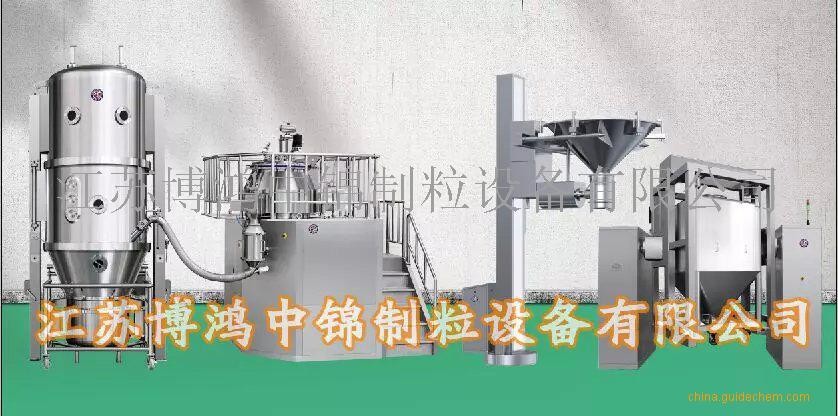 ※ 精细化工:氢氧化镁(铝)、三(二)盐基硫酸铅、分子筛、4A沸石、白碳黑、二元酸、代森锰锌、硅胶、硬脂酸盐、各种碳酸盐、各类重金属盐等。

※ 染 料:颜料及中间体:酞青蓝、氧化铁红(黄,黑)、群青、直接黑、冻黄G、蒽醌、H酸、J酸、DSD酸等。

※ 农药及中间体:TMTD、施加乐、苯赛草胺、杀虫单、阿特拉津、农药杀虫剂、巴单、农药杀菌剂等。
※ 有机物:阿特拉津(农药杀虫剂)、月桂酸隔、苯甲酸、安息香酸、杀菌丹、草酸钠、醋酸纤维素等。
※ 染料:蒽醌、黑色氧化铁、靛兰颜料、丁酸、氢氧化钛、硫化锌、各种偶氮染料中间体。
※ 无机物:硼砂、碳酸钙、氢氧化物、硫酸铜、氧化铁、碳酸钡、三氧化锑、各种金属氢氧化物、各种无机盐、合成冰晶石等。
※ 陶瓷:高岭土、三氧化硅、粘土等。
※ 食品:大豆蛋白、胶凝淀粉、酒糟、小麦糖、小麦淀粉等
※ 共聚物及其单体等有机物如:MBS、ABS、己二酸、聚丙烯酰胺、丙烯酰胺晶体、聚四氟乙烯、酚醛树脂、尼龙 66 、聚丙烯树脂、涤纶切片、聚氯乙烯。

※ 无机盐如:纯碱、食盐、硝酸铵、碳酸钾、氯酸钾、氯化钾、硝酸钾、磷酸钾、硫酸钾。

※ 饲料行业肥料行业:发酵饲料、膨化颗粒饲料、有机肥等。

※ 废物处理环保行业:干燥酒精糟、抗生素渣、垃圾等。
Fine chemical industry: magnesium hydroxide (aluminum), tribasic lead sulfate, molecular sieve, 4A zeolite, white carbon black, dibasic acid, mancozeb, silica gel, stearate, various carbonates, various heavy metal salts, etc.
Dye: pigments and intermediates: phthalein blue, iron oxide red (yellow, black), cyan, direct black, frozen yellow G, anthraquinone, H acid, J acid, DSD acid, etc.
※ pesticides and intermediates: TMTD, dope, benzoxachlor, insecticide, atrazine, pesticide insecticide, batan, pesticide fungicide, etc.
Organic matter: atrazine (pesticide insecticide), lauric acid barrier, benzoic acid, benzoic acid, germicidal red, sodium oxalate, cellulose acetate, etc.
Dye: anthraquinone, black iron oxide, indigo blue pigment, butyric acid, titanium hydroxide, zinc sulfide, various azo dye intermediates.
Inorganic materials: borax, calcium carbonate, hydroxide, copper sulfate, iron oxide, barium carbonate, antimony trioxide, various metal hydroxides, various inorganic salts, synthetic cryolite, etc.
Ceramics: kaolin, silica trioxide, clay, etc.
Food: soybean protein, gelatinized starch, distiller's grains, wheat sugar, wheat starch, etc
Copolymer and its monomer organic matter such as: MBS, ABS, adipic acid, polyacrylamide, acrylamide crystal, polytetrafluoroethylene, phenolic resin, nylon 66, polypropylene resin, polyester chips, polyvinyl chloride.
Inorganic salts such as soda, salt, ammonium nitrate, potassium carbonate, potassium chlorate, potassium chloride, potassium nitrate, potassium phosphate, potassium sulfate.
※ feed industry fertilizer industry: fermented feed, expanded grain feed, organic fertilizer, etc.
※ waste treatment environmental protection industry: dry alcohol dregs, antibiotic residue, garbage, etc.